About Me
Jared Field is a composer, conductor, music educator and clarinetist. His works have been read and performed by Choral Chameleon, the International Contemporary Ensemble, the New York Virtuoso Singers, and by hundreds of students and campers across the country. In addition to his classical works, Jared has written the music for two musicals, Rachel and La Maupin, as well as music for plays and dance pieces.  
​Jared received his BA in Music Composition from Brandeis University, where he earned Highest Honors and graduated Summa Cum Laude. He received his MA in Music and Music Education from Teachers College, Columbia University. Composition teachers include David Rakowski, Melinda Wagner, Marty Boykan, Richard Pearson Thomas, and Vince Peterson. 
Jared is currently the Director of Upper School Instrumental Music at Worcester Academy, where he is a proud recipient of the O'Connell Award for excellence in teaching. He is also the Music Director of the Hanover Theatre and Conservatory's Pre-Teen Musical Theater Intensive.
Music
Jared has written a lot of music, but he currently focuses on choral music, musical theater, and music for theater. He also frequently arranges music for traditional and non-traditional ensembles.
Please contact Jared for more information about perusing, purchasing, or performing any of his music!
Musical Theater
Jared Field
0:00/5:01

0:00/2:41

0:00/1:58

0:00/6:37

0:00/3:46
Teaching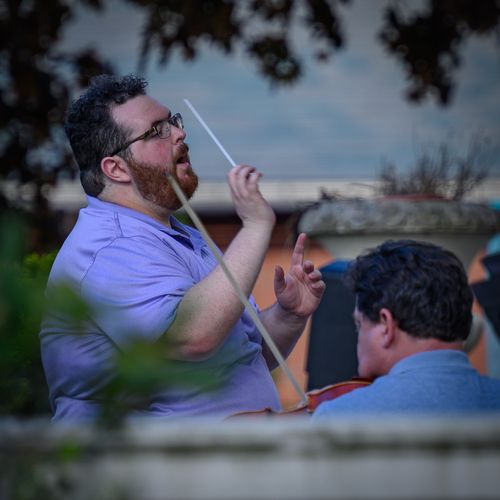 "Mr. Field is great about listening to the ideas and suggestions of band students in instrumental ensemble. I love that this class is a very collaborative and creative environment and Mr. Field is very chill and a great conductor." - a student, 11th grade
" I really appreciate all that you have done for me to grow and learn this year." - a student, 10th grade
"In two short years, Jared has drastically changed our middle school music program and is one of our most beloved teachers. He works tirelessly to create programs that are student-centered, educational, and fun, and his efforts are paying off with increased numbers in our musical programs and clubs." - Lisa, a colleague
"I appreciate the time, effort, and patience you give to my students and me each year... You always bring a calming presence to my environment... I want you to know how much I truly appreciate ALL you do. I miss working with you on our 8th-grade team. Thank you, Jared, for guiding, teaching, and supporting our 8th-grade students and me." - Laurin, a colleague
Student Work
Original commercial with music created by Sabina, 8th grade
Transcription
Jared is available for all of your notation needs! His services include:
Transcriptions
Arrangements
Orchestrations
Collaborations (have a melody and need chords? an idea you want to develop? a parody of a pop song for a birthday party? Let me know!)